LIDO RESTAURANT & GUESTHOUSE
For over one hundred years, our restaurant has been serving traditional Polish cuisine. We recommend our veal, pork, and - first and foremost - the fish courses, which have became our restaurant's trademark. Those hungry for culinary experiences may taste our trout, salmon, calamari, sole, zander.
The uniqueness of this place comes not only from the exquisite cuisine, but also the cozy interior and friendly atmosphere. We hope that our culinary artistry and the positive ambience of your time spent here will leave a good mark in your memory.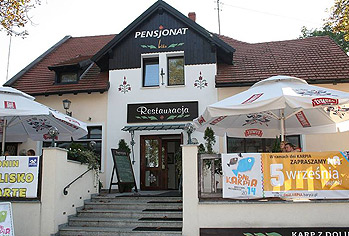 WE CHANGE OURSELVES FOR YOU
Don't you believe? See our clip and check what's new in our restaurant!
Przyjęcia okolicznościowe
Nasza restauracja posiada bogate doświadczenie w organizacji przyjęć okolicznościowych. 
Z chęcią zajmiemy się kompleksową obsługą chrzcin, komunii, imprez urodzinowych, wesel czy jubileuszów.
Dowiedz się więcej
CONTACT DETAILS
ANTONIN

street. Wrocławska 6
63-421 Przygodzice

RSESERVATIONS

Phone: (62) 734 81 91

Email.: lido-antonin@o2.pl
opening Hours
Restaurant from 9 to ...
Guesthouse 24h